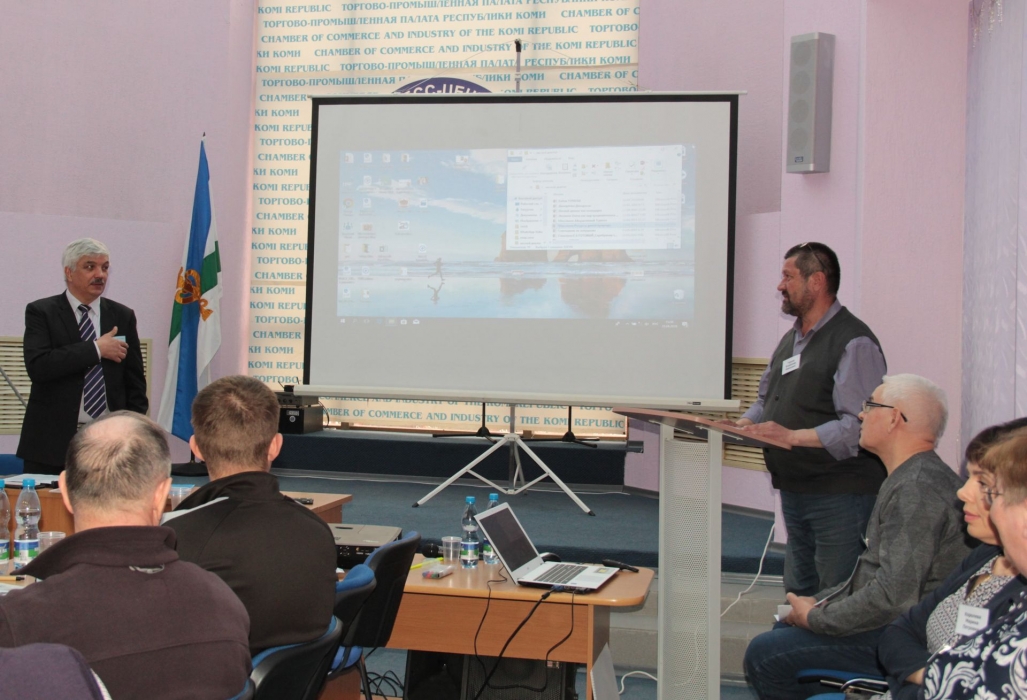 The conversation about hunting held during the Forest Dialogue meeting focused on Sustainable Use of Hunting, Food and Recreation Forest Resources as Economic Component of Rural Area held on 23-24 April 2018 in Syktyvkar revealed a whole number of dramatic changes in this industry over the recent years.
Before early 90s hunting entities – cooperatives and collective farms – generated 2 percent of the national gross domestic product. Now, as Stepan Sidorov, chairman of the Komi Republic Hunting and Fishing Association, noted, hunting ceased to be an independent economic sector. Loss of profit is half the trouble, as reduced commercial hunting leads to extinction of the professional hunter's job. When Federal Law on Hunting and Preservation of Hunting Resources and Amendment of Certain Laws of the Russian Federation was adopted in 2010, mandatory training and test required for the hunting license to be granted was abolished. As a result, many today's hunters fail to distinguish between male and female ducks. Stepan Sidorov thinks that poor knowledge of hunting ethics, skills and legal culture is the main factor causing violation of hunting rules nowadays.
Elena Styazhkina, first deputy head of Ust-Kulom administration, also sees collapse of the commercial hunting system as the reason for some negative effects.  According to her words, hunting is a hobby and leisure for most rural inhabitants to a large extent, there are hardly any professional hunters earning money through selling fur left. Hunting has become unprofitable. First of all, hunting is a seasonal activity and cannot provide regular income. Secondly, hunting involves a lot of efforts, because you need to walk through large areas, however, demand for fur stays low, and purchasing prices have fallen significantly against if compared to previous years.
Collapse of the industry, according to Mr. Sidorov, results from instability of the federal legislation controlling all relevant issues. He claims that laws and regulations are constantly amended, and there has been not a single season since 2010 with no change of hunting rules, which makes it even worse for the development of the sector. He believes, it will be possible to adjust the situation if existing regional laws and regulations are allowed to be amended.
According to the effective legislation, as was noted by many conference attendees, the best hunting grounds are leased to commercial hunting husbandries, with privileged members and wealthy amateur hunters having access to them only, while local hunting associations and those who collect mushrooms and berries use whatever forest resources remain. All that results in conflicts between hunting husbandries and local residents. At the same time, the Komi Republic Hunting and Fishing Association, the oldest hunting union in the region dealing with facilitation of amateur hunting at the most accessible and frequently visited hunting grounds under its umbrella, is facing a challenge now due to unsettled lease disagreements at such areas.
Public hunting grounds remain almost unattended and are hardly protected from poaching, as the headcount of state game managers and inspectors goes down steadily. It is not surprising with the average salary of a hunting sector worker being 11,172 rubles and poor provision with respective technical or other special devices. On the contrary, poachers and offenders get better and better equipped. As a result, losses caused by poaching exceed gain from sales of hunting licenses and hunting ground lease twice.
Rural hunters suffer most of all.
"Hunters from rural areas are left to own devices now. Following traditions of their ancestors they continue building huts, catching sables, shooting elks and bears, but there is no fur market in the region, there aren't even any fur resellers. Fur is delivered to auctions in Kirov region via some "grey" channels. And the Komi Republic is not the only region with such problems", Yury Pautov, director of the Silver Taiga Foundation, believes.
That was the topic of chairman of Udorachi indigenous people  community Albert Loginov's presentation which was shown by Yury Pautov, because Albert himself could not come to the forum because of seasonal road inaccessibility.
According to A. Loginov, there are actually traditional forest use areas (hunting grounds, trappers' trails, hunting huts) in the Republic of Komi and they play an important part in sustenance of the local population. However, such areas are not protected by law and may be withdrawn and allocated for industrial use at any moment. The thing is that Komi has no regulation base for traditional forest management areas.
An option to provide such areas with an official status of protected areas could be creation of a new type of regional or local PA. The Federal Law on PA makes it possible (art.2, part 2, Federal Law on PA), but any such attempts would contradict the land legislation.
To preserve traditional natural resources use one could use the mechanism of territorial public self-governments, but even they do not guarantee complete protection of rural residents' hunting grounds. At the moment, the only possible way is conservation of tribal lands at FSC certified companies' leased areas.
The Komi Republic Ministry of Natural Resources is looking for methods to legalize the rights of villagers for hunting grounds and, in particular, hunting huts. Today, as Pavel Azarenkov, head of forest register and forest use department, Forestry Administration, Komi Republic Ministry of Natural Resources, noted, hunting huts in the forest are considered as illegal structures, as they have no legal documents. Meanwhile, Bolshaya Pyssa in Udora district only has over 80 hunting huts (2.5 per hunter in average).
Local residents are ready to become owners, but the mechanism of huts and land lease remain complicated and may take at least six months. Lease agreement is made with entities or sole proprietors only. The Forest Code of the Russian Federation stipulates no other method allowing citizens legalizing ownership of forest huts. Therefore, the Ministry of Natural resources of the Komi Republic has developed a bill to be forwarded to the Komi Republic State Council, so as deputies of the supreme legislative body of the Republic could promote an initiative to amend the Forest Code of the Russian Federation and let residents of the region own their hunting huts legitimately. According to Mr. Azarenkov, regions have to be provided with powers to give residents rights to rent land for own needs, such as hunting or collecting mushrooms and berries, without any auctions. Secondly, regions need to be provided with a possibility to define the limit of the area that can be rented by an individual.  That would simplify the documentation process for forest buildings used for own needs. And it will be a win-win solution for both citizens and the state.
To sum up the discussion of hunting problems, Yury Pautov, Silver Taiga's director, suggested involving state authorities, forestries to be exact, in the process of mapping and conservation of hunting huts and trappers' trails which now involves local residents and FSC certified lease holders. "Forestries may not give areas that are important for local residents to forestry companies for lease, when they plan forest fund allocation. These are to a greater degree forestries that know exactly about areas that are significant for the locals," Yury Pautov highlighted.
https://www.silvertaiga.ru/wp-content/uploads/2018/05/news-25042018_15.jpg
1309
1920
Just Author
/wp-content/img/full_logo_eng.png
Just Author
2018-05-03 13:26:13
2018-05-08 16:26:56
SEEING NO DIFFERENCE BETWEEN MALE AND FEMALE DUCKS