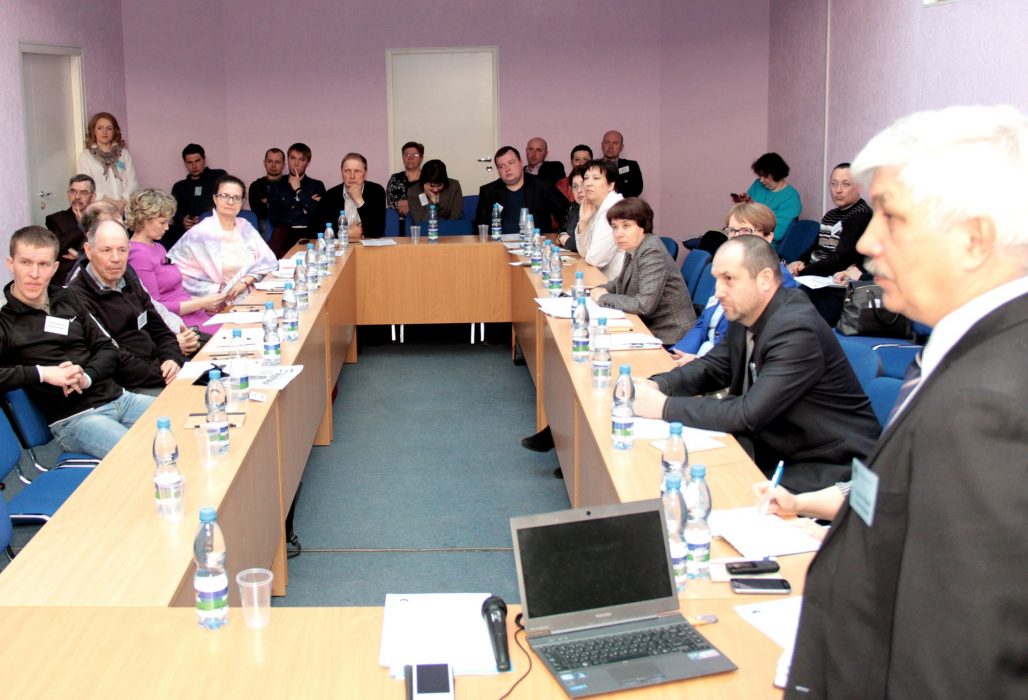 The Foundation for Sustainable Development Silver Taiga held a Forest Dialogue focused on Sustainable Use of Hunting, Food and Recreation Forest Resources as Economic Component of Rural Area on 23-24 April 2018 . This forum has already became the 10th Forest Dialogue organized by the initiative of the Foundation. The first conference Forests and Wealth of Country People was held in Komi in October 2008 in the international status.
This year the Forest Dialogue was attended by the representatives of practically all forest areas of Komi, where the forest harvesting is carried out actively, – Sysola, Priluzje, Ust- Kulom, Kortkeros, Udora districts, Syktyvkar and Arkhangelsk. Between the participants of the forum there were scientists, specialists of the republic, municipal and local authorities, businessmen, representatives of social organizations and local communities – settlements and villages.
According to Silver Taiga Deputy Director Valentina Semyashkina, over these years the Forest Dialogue became a platform for the searching of compromise solutions and development of cooperation in the questions of forest management. "The multifunction of forest stipulates the presence of many interested partiеs of forest attitudes, whose interests are not always the same, and often are directly opposite. The Forest Dialogues organized by the foundation are a catalyzer of movement of different interested parties to cooperate in interests of sustainable development. The Forest Dialogue has become a productive form of democratic debates about nature resources management", – emphasized V. Semyashkina in addressing to the forum participants.
To identify the reasons of lack of non-timber forest resources developing on the rural territories and to offer the most appropriate variants of their intensive and profitable for locals developing these two tasks here became main ones during the discussion of topic pronounced in the title of a Forest Dialogue held.
The representatives of municipal districts, specialists of ministries and departments, scientists and businessmen shared their observations, experience, told about their viewing of the solution of the problems accumulated, сonsidering the most varied points of view, and as a result they made collaborative proposals to such structures, on which the changing of existing situation on using one or another non-timber resource on the territory of the Komi Republic depends.
The conference lasted for two days, after plenary speeches the work continued in the course of sectional meetings. The auditory was divided into three groups, choosing from offered topics – the use of wild plants, hunting resources, and recreational resources – the most actual one from them. It is remarkable that the most numerous was the section, where the questions of rural tourism developing were discussed.
Regretfully, the specialists of relevant ministries, that regulate actions in using non-timber resources, excepting Ministry of Natural Resources and Environmental Protection of the Komi Republic, for different reasons refused to participate. Nevertheless, the outcome document, made during the discussions held on the platform of the Forest Dialogue, will be sent to all parties concerned.
https://www.silvertaiga.ru/wp-content/uploads/2018/04/news-25042018_06.jpg
1307
1920
Just Author
/wp-content/img/full_logo_eng.png
Just Author
2018-04-26 18:07:34
2018-05-29 10:20:44
IT WAS TOLD ABOUT THE DIVERSITY OF FOREST RESOURCES AT THE 10TH FOREST DIALOGUE