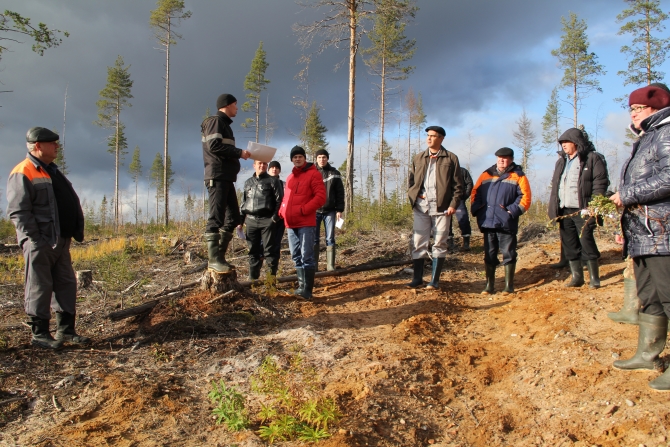 A series of workshops for the logging companies and contractors of OJSC "Mondi Syktyvkar", organized and conducted by the Silver Taiga Foundation specialists during the autumn months, has come to an end.
Three educational seminars have been attended by about 50 people from different districts of the Komi Republic – all of them are involved either in the logging operations of Mondi Syktyvkar or allocation of logging sites, or forest use organization.
In particular, the necessity and feasibility of using up-to-date space images for planning of the wood felling, logging sites, and haulage roads, with account of the FSC certification requirements, have been actively discussed in class. The participants have also discussed the possibilities for the competent planning of the technology and spatial arrangement of the felling technological elements, considering the need to preserve the biodiversity, ecological and hydrological functions of the forest ecosystems (conservation of the key biotopes, key forest elements, landscape patchiness … ).
The participants have not only listened to the presentations and asked questions, but also visited felling sites of different years and discussed directly on-site the quality of the certification requirements fulfillment on these logging plots. Besides, they have been engages in the virtual planning and assessment of the felling based on the space imaging data. According to the majority of participants, the space imaging data significantly improves the process of strategic and tactical planning of the forest use, but at the same time, it requires certain knowledge and skills. Therefore, one of the outcomes of the discussion was the proposal to organize additional courses and trainings on GIS methods application in the forest use planning. The participants noted that GIS methods mastering is important both for the forest users and forest service, and other supervisory agencies.
Valentina Semyаshkinа
Translated by Irina Sokolova
https://www.silvertaiga.ru/wp-content/uploads/2017/06/news-06112014_07.jpg
447
670
silver
/wp-content/img/full_logo_eng.png
silver
2014-11-06 12:32:11
2017-08-17 12:33:41
Aimed at Forest Use Improvement