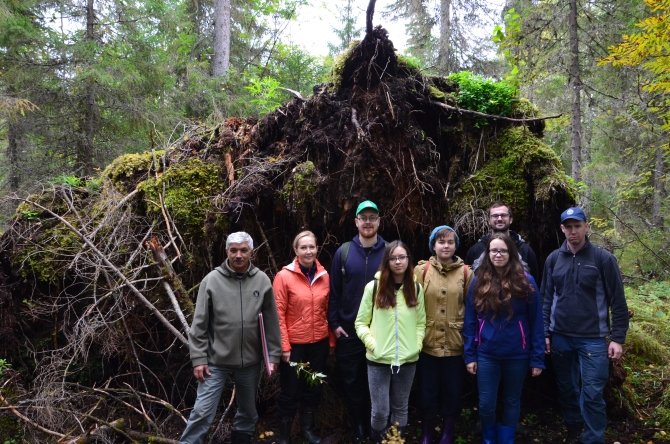 Komi hosted the International Forest Summer School course initiated by Syktyvkar Forest Institute and conducted with the support of the partners – Mondi Syktyvkar and Silver Taiga – from 5 to 10 September. International students join Syktyvkar Forest Institute students for this annual course.
This time these were seven students from Finnish and British universities specializing in "forestry", perspective forestry engineers. As part of field classes they visited demonstration sites of the Priluzye Model Forest and got to know about its history. The young forestry experts were eager to understand the operation of the Russian forestry sector, see the difference between silviculture in Russia and Scandinavia, and compare the forestry development history in different countries.
One day spent at the sites of the demonstration route Forest and Man – History of Relationships (Chitayevo) was dedicated to learning the forest management history in Priluzye. Silver Taiga's director Yury Pautov showed the results of long-term large-scale anthropogenic effect on the forest to the students, as the area has been exploited for centuries… The route To the Nyula introduced the future forestry engineers to the specifics of the taiga natural dynamics.
As Yury Pautov notes, the attendees of the course were mostly interested in the economic aspect of forest management – forest road construction and maintenance, accessibility of forest resources, selling and disposal opportunities for small merchantable wood obtained through improvement thinning, application of new reforestation technologies… All these issues were extensively discussed during field trips at demonstration routes of the Model Forest and Mondi Syktyvkar's sites in the Koygorodok forestry.
"The history of forest exploitation in Komi differs greatly from the one of Scandinavia, that is why the Forest School attendees discovered so much on the Chitayevo route", Yury Pautov explains the foreign students' interest. "They were especially impressed by the remaining parts of virgin forests right near the village – just four kilometers away from it. In their countries it is not possible to find such things. Moreover, the students highly appreciated availability and preservation of water protection zones, which keep good quality of water in minor rivers and brooks contributing to the biodiversity conservation over the exploited forest landscapes at the same time. In Scandinavian countries, contrary to Russia, over half of all forests are private, and it is legal to extend logging activities right to the water edge".
Natalia Sedusova, head of the International Forest School, believes that such international and interdisciplinary communication provides a comprehensive understanding of the distinctive features of taiga forestry, broadens students' horizon, and makes it possible for them to establish good contacts, which are absolutely necessary in the changing world of today.
"Silver Taiga finds the Forest School initiative useful and needful, and is happy to take part in facilitating the classes", the Foundation's director Yury Pautov says. "We are ready to continue our cooperation with the Forest Institute in this aspect".
https://www.silvertaiga.ru/wp-content/uploads/2017/06/news-13092016_03.jpg
444
670
silver
/wp-content/img/full_logo_eng.png
silver
2016-09-29 18:28:34
2017-08-17 18:30:09
International Forest School in Komi