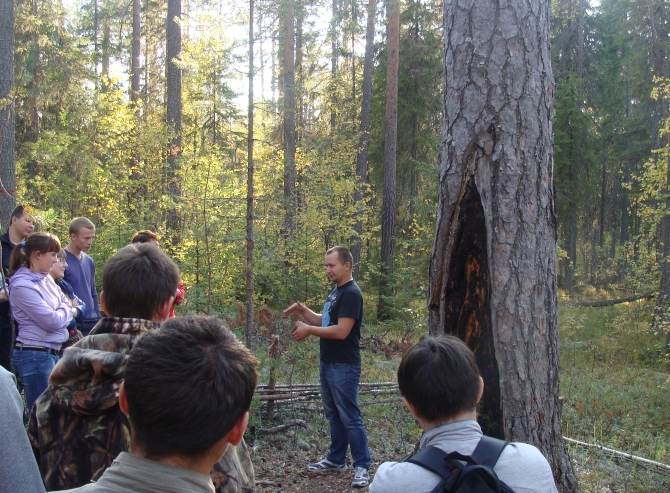 This pine grows on the territory of the Zanulsky divisional forestry unit of the Priluzje forestry unit and is the final demonstration point of the popular educational route "Natural forest dynamics of the taiga ecosystems".
The route "Natural forest dynamics of the taiga ecosystems" (Descriptions of the demonstration routes and test grounds of the Komi Model Forests (RUS), Demonstration route "Natural forest dynamics of the taiga ecosystems ("To the Nyula")" ( PDF | 13.9Mb)) was developed and prepared in the early 2000s for demonstration of different types of taiga forests natural dynamics. A huge old pine, located a hundred meters to the left from the road, at the 640th kilometer of the federal highway "Vyatka", has become one of the most vivid and accessible objects of this route.
Unfortunately, it wasn't possible to determine the exact age of the pine, because the core of the tree is already rot-damaged. However, according to the estimation of the Silver Taiga Foundation ecologists, having taken the pine core sample at a height of 2,5 meters, its age exceeds 560 years.
By the way, in 2003 "Silver Taiga" announced a competition among the schoolchildren and young people of Priluzje: who will find the oldest tree on the district territory. In spite of a big number of participants, not a single tree older than 350 years old could be found. So, basically, the famous pine having lived through at least seven intensive ground fires, is a truly unique object. Suffice it to say that it came to the world before the oldest settlements on this territory, as it is believed that the initial date defined as the time of establishment of the "small cities on the Luza" is 1478.
Every year about 200 – 300 participants of the courses, organized by the Silver Taiga Foundation, visit the route "To the Nyula". At the "Pine" point they get acquainted with the environmental features of the upland pine forests, naturally formed on the dry sandy soils under the influence of the recurrent ground forest fires. In such places, pure uneven-aged pine forest stands of particular significance for the conservation of the taiga forests biodiversity are gradually formed for hundreds of years, resulting from a multiple fire impact. During the route preparation and renewal for the 2013 season, a stand informing the visitors about the object peculiarities and value was placed near the path leading from the road to the pine. Recently, the certification commission of the All-Russia program "Trees as Wildlife Monuments" made a decision to include the pine into a National Registry of old growth trees.
The photo is made by Alexander Borovlyov
Translated by Irina Sokolova
https://www.silvertaiga.ru/wp-content/uploads/2017/06/news-10122014_01.jpg
493
670
silver
/wp-content/img/full_logo_eng.png
silver
2014-12-10 12:52:56
2017-08-17 12:56:50
The Best Known Pine of the Komi Model Forest Is Included in the National Register of Old Growth Trees