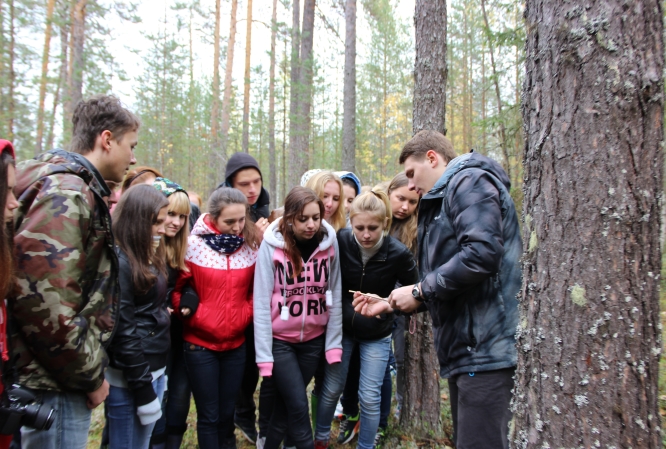 For the third consecutive year, the Silver Taiga Foundation jointly with the Syktyvkar Forest Institute (SFI) organizes introduction field excursions in the Komi Model Forest for the first-year students having entered the SFI.
Early in the morning, the students together with their teachers and foundation employees go to the Priluzsky district. Throughout the day, they visit three demonstration points of the Komi Model Forest and get acquainted with the history of the forest use on this territory, peculiarities of the natural taiga forest dynamics, economic and social values of the Komi forest.
Besides, the students get a chance to learn about the work of the forestry units and pose any questions of interest to the foresters or forestry engineers directly at their workplace.
Interestingly, this year SFI called this event "an environmental cross-country race on the Komi Model Forest routes" – and it really reminds yesterday's schoolchildren, especially the town dwellers, of the cross-country race, because they need to walk about 10 kilometers per day along forest paths crossing the hollows and streams and learning the forest history over many centuries.
One more highlight of this year's excursions is visiting of the forest museum established in the forestry unit within the framework of the Komi Model Forest project. The history of the forestry presented through the exhibits of the museum – forest measurement tools and other attributes of the profession used by the foresters since the beginning of the past century – become a real discovery for many of the first-year students.
The participants of the first four excursions conducted last week were especially lucky: the weather was warm and sunny and the forest was rich in mushrooms and berries…
This week the acquaintance with the forest continues. By the way, the days spent on the forest routes also help the freshmen to get to know each other and bring closer the groups, which have just been formed.
In total, 300 first-year students of the SFI are going to visit the educational routes of the Komi Model Forest in September. Along with the Silver Taiga Foundation Director Yury Pautov, the young foundation employees Nikolay Shuktomov and Alexandr Borovlyov conduct the educational excursions for them.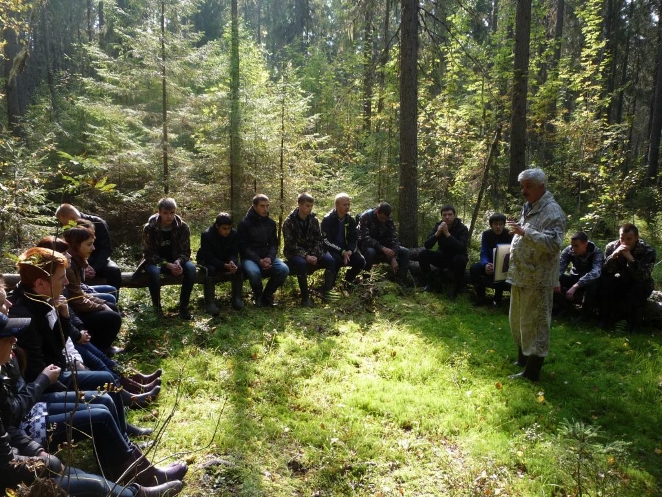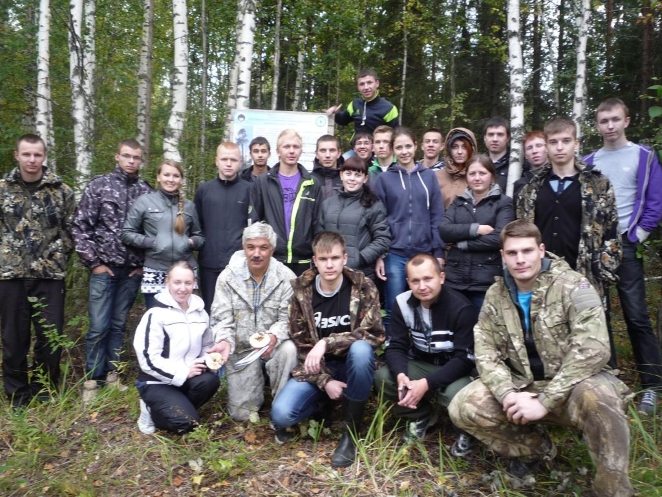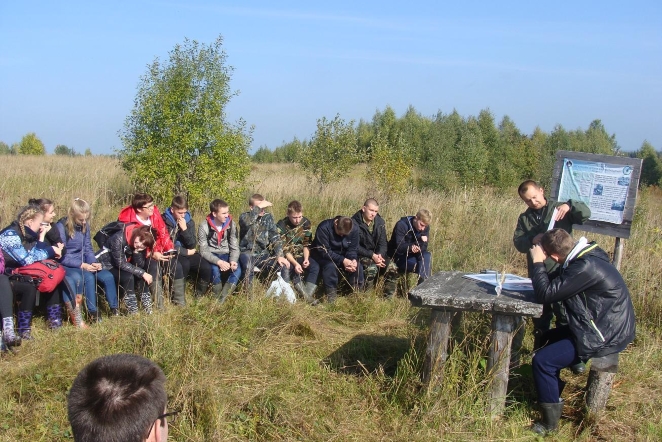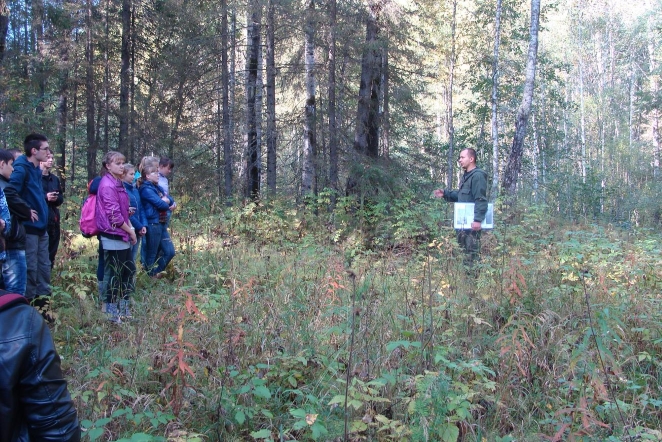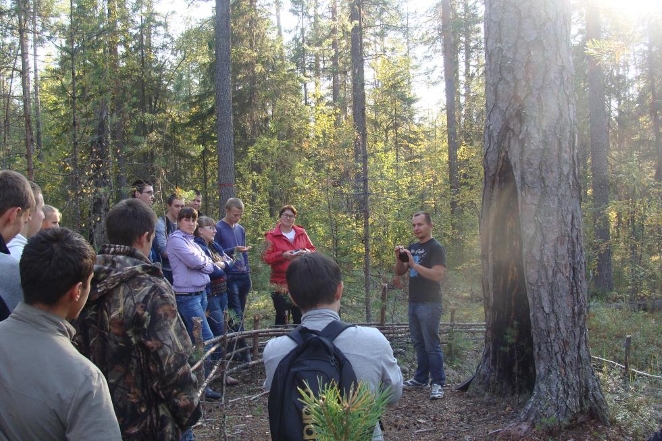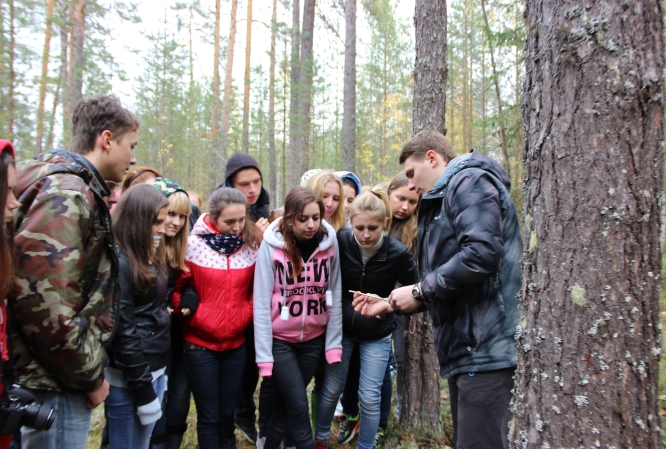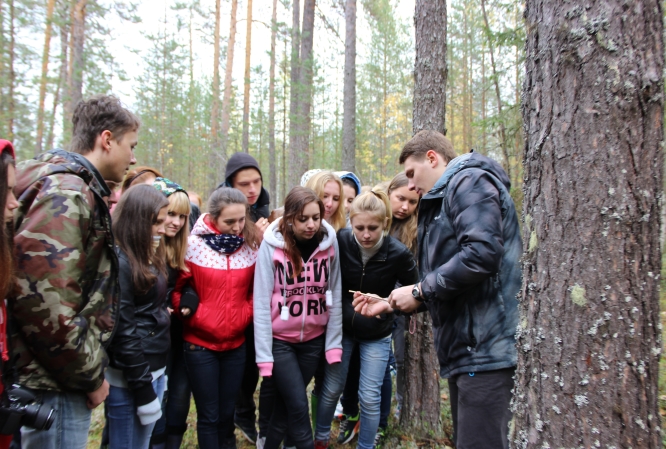 Valentina Semyashkina
The photo is made by Alexandr Borovlyov
Translated by Irina Sokolova
https://www.silvertaiga.ru/wp-content/uploads/2017/05/news-komimodelforest_19092014_08.jpg
449
666
silver
/wp-content/img/full_logo_eng.png
silver
2014-09-19 12:01:34
2017-08-17 12:08:17
"Environmental Cross-country Race" on the Komi Model Forest Routes