On February 11, 2013 a presentation of the film "I choose forest" was held in Moscow. The participants of this film representing the Komi Model Forest – Silver Taiga Foundation Director Yury Pautov and Head of the Priluzje forestry unit Alexander Kindsfater took part in this event.
The film has been made in partnership of WWF – IKEA and represents a 40-minute documentary telling 2 parallel dramatic stories. On the one hand, it reviews contemporary problems of Russian forests, on the other hand, shows the process of choosing the right life path by a young man who decided to specialize in forestry.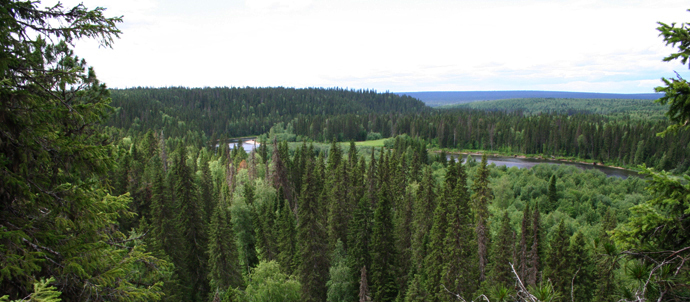 The film was shot in several districts of Russia, but its first plots start in the Komi Republic. Just at this place the main character of the movie Artem Tishkov, a first-year student of the Moscow State Forest University, gets acquainted with the pristine taiga in the Komi Model Forest, attends current logging areas where the forest is cut by up-to-date harvesters and forwarders, learns about the profession of a forester and even tries on the uniform of the Director of the Priluzje forestry unit Alexander Kindsfater, visits the biggest wood processing mill in the district – Mondi Syktyvkar and its modern forest nursery where the ball-rooted planting stock is grown.
The presentation of the movie "I choose forest" in the Moscow cinema "35 mm" gathered almost a full house – about 150 people. Judging by the reaction of the audience by the end of the movie, it was a success. This was a common opinion expressed by the audience and participants of the film – forest professionals, and film director – Georgy Molodtsov.
"We, representatives of the Komi Republic", Yury Pautov says, "were especially pleased to get sincere "THANK YOU" both from the authors of the movie idea – specialists of WWF Russia and its creators – the team of the young but very professional studio "Artman Group", as well as from numerous spectators who after watching the film asked us to leave an autograph on the disks with the movie."
The film "I choose forest" is distributed among all interested organizations, primarily, higher educational institutions and technical colleges in the field of forestry free-of-charge upon requests sent to WWF Russia. It can be found on site www.wwf.ru/forest-film. or Youtube on the following link http://www.youtube.com/watch?v=-DgXcVRQJjI
/wp-content/img/full_logo_eng.png
0
0
silver
/wp-content/img/full_logo_eng.png
silver
2013-02-20 21:55:46
2017-08-15 21:56:52
"I choose forest" is a must-see movie for everyone!